Commercial Design
Rangiura Fernhaven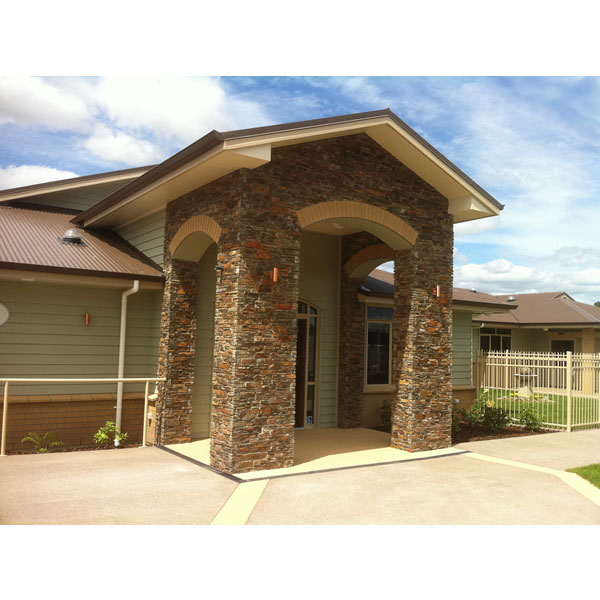 This aged-care facility is designed specifically for dementia clients, incorporating as many Eden/Green house principles as possible. Both the client and Environs were extremely proud when it was the recipient of NZACA Built Environment Award, an endorsement for the team approach to design embraced by the client and designer.
The key unique feature that sets this design apart is the use of a large fire curtain, which enables an open plan house feel without 'institutional' corridors. This is achieved without compromising residents privacy in their rooms due to considered room layouts.
The extensive glazed central courtyard is a key feature. It allows plenty of sunlight and natural ventilation into the internal spaces of the home, this benefits residents and on-going running costs. It also provides a sheltered outdoor space, and gives plenty of sight-lines through the building for nursing staff to be able to monitor residents.

NZACA Conference review - Excellence in care examined
Nov/Dec 2011
A focus of the 2011 NZACA conference was the NZACA/INsite Excellence in Care Awards announced during the 'Chicago' conference dinner. Finalists' four-minute presentations had been delivered to judges during the conference.
Jackson Enterprises Ltd Built and Grown Environment Award
Rangiura Trust Board, Fern Haven House, Putaruru
"We were absolutely thrilled about the win, given the community input into this project – the three years of fundraising and the many creative solutions that had to be sought to ensure we had a homely design as opposed to an institutionalised look for our Eden-centred Memory Support Home," says Fern Haven's Juliette Bell.
"The residents, staff and all our volunteers were absolutely delighted and we had a formal presentation of the award with Gus from Jackson Enterprises coming down to hand over the BBQ and join us for a elaborate afternoon tea in Fern Haven – which the residents, with the help of staff, kindly put together and served.
" The design and build of the Memory Support Home project came about due to wider community desire to have a supported environment for people with dementia living locally, according to Bell. "Previously, residents requiring level 3 dementia care had no option but to leave the district."
Given the increasing demand for this specialized level of care and the strong level of community feedback and support, the trust made the decision to construct a purpose-built 16-room dementia-specific home, based on the Eden Alternative 'Greenhouse Model'. The aim was to create a design which resembled the look and feel of one's own home and where residents could take an active part of the daily running of the home.
The project started in November 2007 and the home opened in 2010.
The hearth includes a two-way gas fireplace, placed centrally in an open-plan design to create two smaller areas. Little angled walls lead into the rooms; there is an extensive glazed courtyard and outdoor raised areas. All areas and rooms have direct sight of the outdoors, and individually themed rooms.
The most obvious outcome is not having to transfer residents out of the district.
"Additionally, almost immediately there has been a change in resident behavior. They have become self-motivated with their own care. They became involved in the household activities. The open-plan design has been great for families, promoting a strong level of interaction. Also, the staff particularly enjoy working and living in this environment, and while new buildings and systems always have their hiccups which have been navigated, there could not be a more caring and dedicated group of people to support and encourage residents."
Testimonial
'Environs (Glen Brownlee) was contracted in 2009-2010 to carry out the design and project management of our specialized memory support home, Fern Haven. Following the completion of this project Glen has also been contracted over more recent years to complete plans for major alterations and the ongoing redevelopment of our main rest home and hospital buildings.
Right from the concept stage through to the construction stage, and final completion; we found Glen and his team have been able to specifically interpret and creatively develop plans and associated work. This has resulted in a extremely high quality, and multifunctional end product that met the majority of the (sometimes very challenging) demands of our project briefs. Overall we have found Glen and his team to be extremely professional and flexible. We have no hesitation in recommending Glen to anyone requiring architectural services, and would be happy to endorse this reference further. Please contact the undersigned if you require further information regarding Environs. '
Yours faithfully
Henry Van Dyk
Chairman
Rangiura Trust Board
Resthaven
Environs has an on-going relationship with Cambridge Resthaven, having undertaken architectural and landscape design services for them since 2006.  We value the opportunity and are extremely proud to be helping to create a vibrant agecare facility for a local,  non-for-profit community trust.
Work has included the successful design and implementation of the upgrade of 4 existing resthome/hospital wings to individual ensuited rooms, and to a 24-bed Memory Enhancement unit.  New builds include the design and development of  7 independent living houses and 4,  1-bedroom apartments and lounge linking existing wings.   The latest project is a new two storied build incorporating  resthome rooms and administration.
Environs has also undertaken a  Long-term Strategic Development Plan, looking to address growth and the upgrading of the existing facility adapting it to modern care styles.  Also a Landscape and Urban Design Assessment for the new Views on Vogel village, including a Landscape Concept Plan.