Landscape Design
Residential Landscape
Environs will come up with a creative, innovative landscape design solution whether your site is 8m², 800m² or 8 ha. We specialise in designing the house and landscape together so that the landscape is an integral part of the overall design, not an afterthought.
Environs do not limit themselves to one design theme. The design theme is client driven, with past designs including formal, contempory, sustainable and native theming. A successful landscape design relies on good spatial layout and how hard and soft landscape items are laid out within that space.
Services that Environs can offer residential clients include Concept Plans, Planting and layout plans and oversight of the implementation. We work closely with several experienced landscape contractors.
Commercial and Educational Landscape
Environs aim to achieve a design that integrates the interior and exterior elements of a development, always bearing in mind the future users of the site.  We design both new outdoor areas and revamps of existing ones.  Our design will ensure an outdoor environ that enforces the statement you want it to make. 
Environs designs for retirement and resthome complexes, including gardens that aid in memory enhancement.  We have experience in working with the educational sector from kindies and schools to adult education facilities.  Our designs are bright and innovative, inviting interaction. 
Services we offer include Concept Plans, Planting Plans, Layout Plans and Specifications and Design and Maintenance Guidelines.  
Streetscape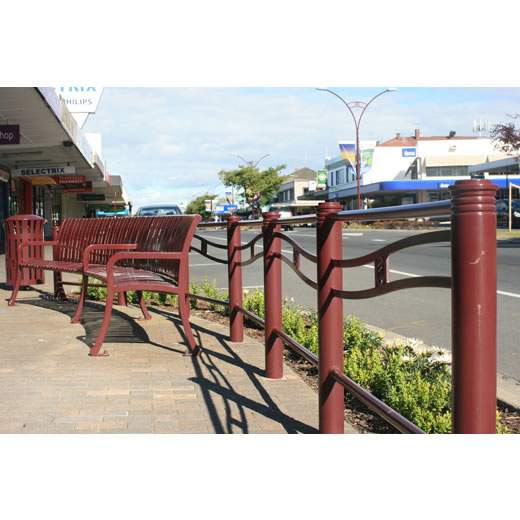 Environs is involved with a number of projects in Pirongia Township including mainstreet redesign, and an adjoining carpark and reserve area. The designs for Pirongia embrace the frontier town concept with the use of materials suchas sleepers and colonial streetfurniture.
For Te Awamutu Environs provided landscape design to the main consultant, Karen Hills of Gray Matter Ltd. The project concentrated on key focal points along the three main streets. We assisted with concept plans, layout plans; and provided detailed planting plans and contract specifications for the successful implementation. Environs designed the custom street furniture which included seating, litterbins, streetlights and fencing. For street art Environs designed the granite mosaic, styilised roses and locally sourced large urns. Planting includes massed areas of bold colour. The street theming items all successfully combine to give Te Awamutu a unique sense of identity.